Visiting ProgressBar HackerSpace in Bratislava
When traveling, I make an effort to visit the local hackerspace. I understand that this is not normal behavior for many people, but for us (free / opensource advocates) is always a must.
This was my 4th week on Bratislava and for the first time, I had a couple free hours to visit ProgressBar HackerSpace.
For now, they are allocated in the middle of the historical city on the 2nd floor. The entrance is on a covered walkway (gallery) between two buildings. There is a bell to ring and automated (when members are already inside) the door is wide open for any visitor. No need to wait or explain why you are there!
Entering ProgressBar there is no doubt that you are entering a hackerspace.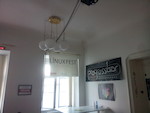 You can view a few photos by clicking here: ProgressBar - Photos
And you can find ProgressBar on OpenStreet Map
Some cool-notable projects:
bitcoin vending machine
robot arm to fetch clubmate
magic wood to switch on/off lights
blinkwall
Cool T-shirts
their lab is fool with almost anything you need to play/hack with.
I was really glad to make time and visit them.
HestiaPi is more than just a thermostat
[UPDATE 2015 12 13]
How about if you could control your entire home temperature and hot water/central heating etc etc, through your smartphone over the internet ?
You are going to think that this is a dangerous IoT (Internet of Thing) that exposes your privacy to unknown attackers and your smart home is going to be under the control of an evil company.
What if I could tell you, that you can build your own smart controller with open-design/open hardware & free software that costs about €100 ?
Crazy, right ?
Actually there is a project that does exactly all the above and much more and it's based on a Raspberry Pi.
Let me introduce you to HestiaPi .
The name comes from the greek word: εστία and everything you need to start with, have already been published by the core developer on their site.
The team behind this awesome project will host/run an open/free entrance two day Hackathon at Athens, Hackerspace on 2016.
If you are curious on the project, visit hackerspace.gr and be part of this amazing project.
DNS intro workshops
Posted by ebal at 08:04:09 in
blog
Στο HSGR έχουμε ξεκινήσει μια σειρά "μαθημάτων/συζητήσεων" γύρω από το DNS. Αυτά γίνονται κάθε Παρασκευή στις 18.00. Το 3ο κατά σειρά θα γίνει αυτή την παρασκευή 01.11.2013 κι εδώ θα βρείτε την σελίδα του event: