Visiting ProgressBar HackerSpace in Bratislava
When traveling, I make an effort to visit the local hackerspace. I understand that this is not normal behavior for many people, but for us (free / opensource advocates) is always a must.
This was my 4th week on Bratislava and for the first time, I had a couple free hours to visit ProgressBar HackerSpace.
For now, they are allocated in the middle of the historical city on the 2nd floor. The entrance is on a covered walkway (gallery) between two buildings. There is a bell to ring and automated (when members are already inside) the door is wide open for any visitor. No need to wait or explain why you are there!
Entering ProgressBar there is no doubt that you are entering a hackerspace.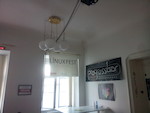 You can view a few photos by clicking here: ProgressBar - Photos
And you can find ProgressBar on OpenStreet Map
Some cool-notable projects:
bitcoin vending machine
robot arm to fetch clubmate
magic wood to switch on/off lights
blinkwall
Cool T-shirts
their lab is fool with almost anything you need to play/hack with.
I was really glad to make time and visit them.